Michael Dee began taking photos regularly when he left his studio in El Sereno in February 2015. Dee's dog walks and trail hikes to Needles Rest in Tujunga Canyon became opportunities for image creation. The early flower photos were shot on a cell phone, which led to crop sensor and full frame dslr images. For the This Will Hurt Me More Than You show at Last Projects he has produced a suite of five hand-painted St. John's Wort flower photographs with the hopes that they will render witches powerless and break their wills as well as protect viewers from evil and the torments of demons. St.John's wort, hypericum perforatum, is also known as the Blood of Christ for the dark red liquid it secretes when crushed. 

For this body of work Dee has been primarily interested in medicinal plants, Christian mythology, life forces, and pop surrealism. Dee received his MFA from Kent State University in Ohio and his work has been exhibited extensively in galleries and museums, including Western Project, Gagosian, and Los Gatos Museum.
Ciriza Untitled 2016
LAST Projects is pleased to present This Will Hurt Me More Than You, an exhibition of works by Ciriza, Michael Dee, and Cynthia Herrera that implements visceral healing strategies for the disembodied.
How do we be the wet things in a dry place? What does our plasma congeal into: tar pits, rice syrup, grease, an egg yolk held inside pantyhose. Our bodies push out, membrane bulges like the flesh of canned tomatos. At first, the milkshake melted but now it is sour-curdling in the shopping bag.
The sun can be molten and liquid, floating in holographic sky-ocean heat waves. Oil-slippery, like demons, smelling like boiled piss in a plastic bucket. It acts viscously, seeps through every crack, sucks up every wetness. Sometimes the relentless bleached light becomes a red dwarf, desiccating the horizon, dumping out the colors of weird emotions and breeding evil-looking insects.
Things blur and stutter, then overlap the sensations of the ancient and mummifying, of the dead and swelling, of the pregnant and sweating. The air is gauzy, and smells like czarnina, and it also smells smoky. A fine dusting of salts and minerals stick to your surface at first. Then the wind picks up like a scream and covers you in a thick crust.
Ancestral barnacled claw summoned from sediment. When your eyes ossify, here's the drunken hag that harvests them. If you have a mirror, in the light, you can see the pulp squirming beneath the husk of your face. There is afterbirth so big inside you right now that it stretches from your uterus to your nostrils, fills your throat, gunks up your guts, suffocates your balls, swaddles your brain, blocks your asshole and spills over into your muscles and nerves. When you finally let go, it'll all come rushing out, pulling you with it. Sacs of albumin and mucus and soft tissue ropes like fiber and lace. Leaking golden juice, mercury, and blood clots onto sharp hot sand, you are being sopped up, making french toast with your milk and mud.
These hairs are so long, you could drown or nest in them. You can braid them into horns and coils, a snake palace, a strange house for a feeling you can't touch with words. Begin at your feet and weave yourself into a flossy cocoon, feel the heavy thud of distant artillery, tear free from the inside, use your teeth. Let's scrape towards something that is real, get the dandruff under our nails, slide our fingers under the fur. Dig down, through what you have buried, and deeper down through the cesspit, through neverending bullshit, deeper through all the things buried before you. Get swallowed by clay, hack at rocks, punch through the birthday cake of geological time, dig a well - you're a wet thing in a dry place. - Edie Fake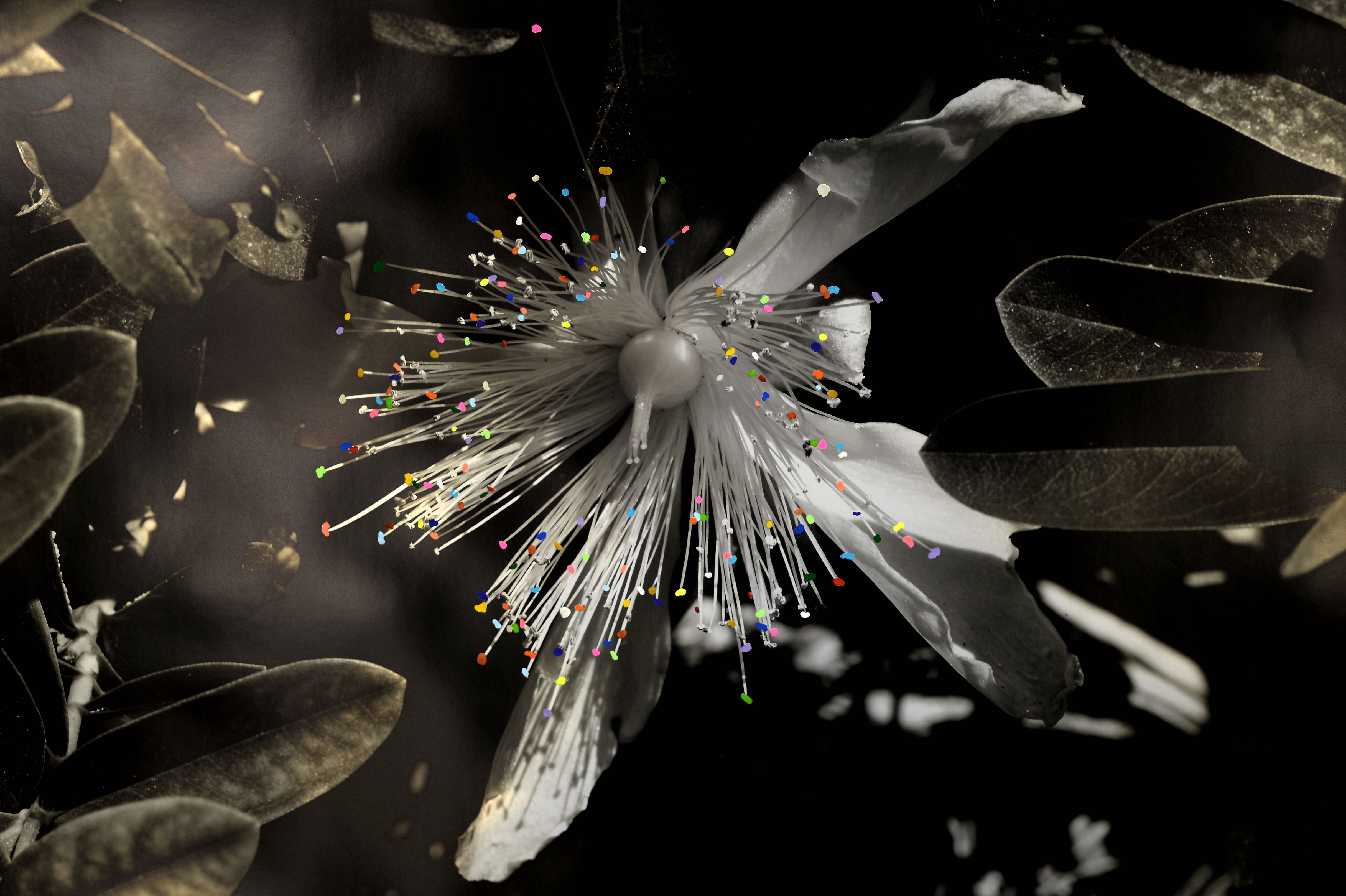 This Wlll Hurt Me More Than You
Ciriza, Michael Dee, Cynthia Herrera
June 11 thru July 2nd 2016
opening reception 5-10pm Saturday June 11th
9:00 pm peformance by Ciriza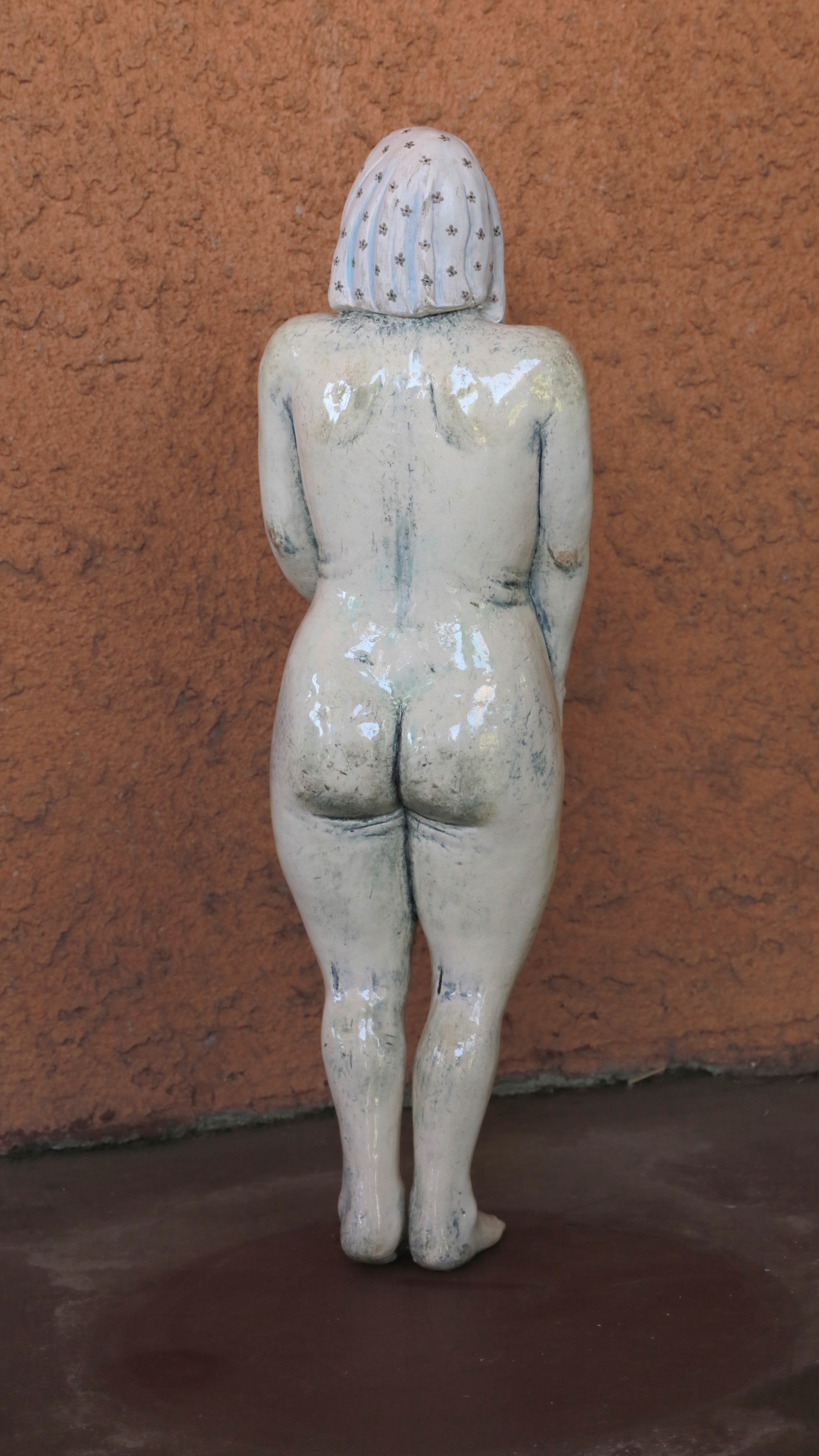 Herrera explores power, repression, sexuality, violence, vulnerability, and healing in her highly coded interdisciplinary practice. An iconography of often veiled, hooded, and masked nude female figures reappear in her highly refined ceramic, drawings, prints, and faux stained glass windows. While using trappings of BDSM/ fetish art, Herrera's figures also recall the masked actors of ancient Greek and Noh theater and the fetish dolls of the Purépecha and their contemporary counterparts in the Catholic Church. Their ritualized effacement and uncanny affect belie unspeakable powers and a culture of resistance to colonialist and patriarchal structures. The element of alchemy and unpredictability present in the technical processes of firing ceramics, printmaking, and pinhole photography are important to Hererra's practice. Herrera lives in Los Angeles and is currently working towards her degree to transfer. She recently showed her work in Davis California for the annual California Conference for the advancement of ceramic art (CCACA).
https://www.instagram.com/b0ne_dry/?hl=en