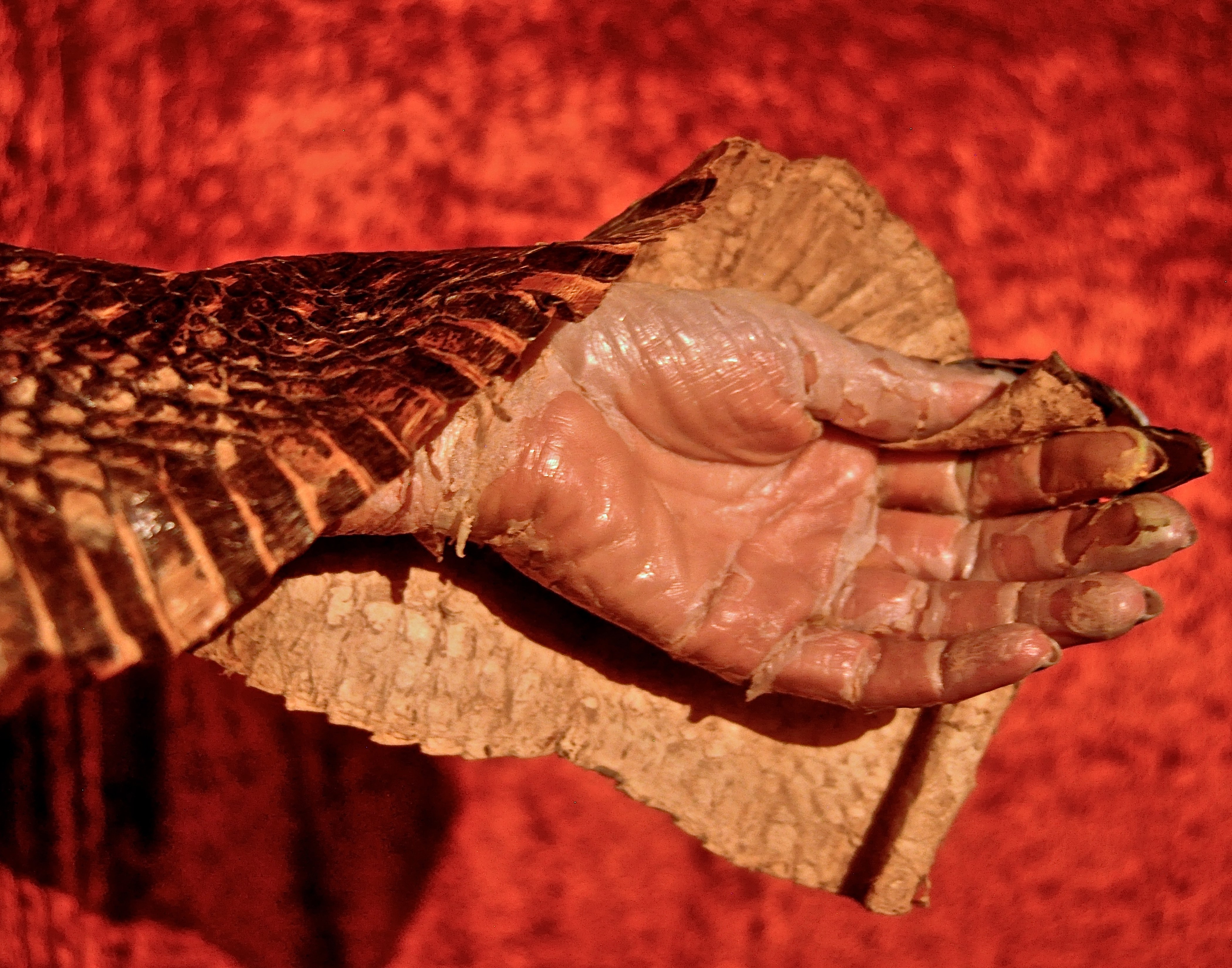 LAST Projects is pleased to present This Will Hurt Me More Than You, an exhibition of works by Ciriza, Michael Dee, and Cynthia Herrera that implements visceral healing strategies for the disembodied through the related concepts of the pharmakon and the pharmakos. Both pharmakon and pharmakos contain seemingly paradoxical dualities, the former referring to remedy/poison/ spell and the latter to a scapegoat/ human sacrifice/ magician/ healer/ . The pharmakos in ancient Greece took on collective sins or trauma and purified the community through death or ostracization. This ambiguous position is elucidated by Derrida in his deconstruction of Plato's Phaedrus and by Kristeva in her discussion of Oedipus as pharmakos king in The Powers of Horror. It is in this multiplicity of meaning that we approach the interventions of This Will Hurt me More Than You.
Ciriza will be showing stills from video and film works shot between 2012 and 2015, while living in Joshua Tree which she shot on video, super 8 and 16mm film. Donning elaborate costumes, in layers of latex , snake skins, and disfiguring contact lenses, she plays out primal, ambiguous, slippery narratives rooted in the generative earth, through orifices dug in the desert, in livestock sheds amongst animals, in spaces that combine the haphazard, the abandoned , the visceral, and the carefully art directed. Ciriza performs a shamanic theater.
Ciriza's draws from her Cuban roots and Santería/ Yoruba cosmology , with borrowings from horror and occult cinema, the figure of the blind seer and her exploration of second sight and occluded vision. Evoking Julia Kristeva's "nurturing horror, she presents herself in scenes of unsettling beauty, abjection, possession, and seduction amidst the byproducts of birth and death. Ciriza will also display a body of drawings, sculptures, hair and Braille text works created in an engagement and exploration of her central vision loss.
Ciriza received her BA in Sculpture from San Francisco State in 2004, where she participated in numerous exhibits, films, collaborative art projects. She lives and works in Los Angeles.

Michael Dee began taking photos regularly when he left his studio in El Sereno in February 2015. Dee's dog walks and trail hikes to Needles Rest in Tujunga Canyon became opportunities for image creation. The early flower photos were shot on a cell phone, which led to crop sensor and full frame dslr images. For the This Will Hurt Me More Than You show at Last Projects he has produced a suite of five hand-painted St. John's Wort flower photographs with the hopes that they will render witches powerless and break their wills as well as protect viewers from evil and the torments of demons. St.John's wort, hypericum perforatum, is also known as the Blood of Christ for the dark red liquid it secretes when crushed.
For this body of work Dee has been primarily interested in medicinal plants, Christian mythology, life forces, and pop surrealism. Dee received his MFA from Kent State University in Ohio and his work has been exhibited extensively in galleries and museums, including Western Project, Gagosian, and Los Gatos Museum.
Cynthia Herrera explores sex magic, power play, vulnerability, shame, and healing in her sculpture , drawing, print making, and photography. She will be displaying stained glass, highly finished and refined ceramic figurines of young women, drawings and prints. Herrera lives in Los Angeles and is currently working towards her degree to transfer.
curated by Ilona Berger and Andrew Wingler